pants PREMIUM
for unrestricted mobility
The air-permeable PREMIUM pants from TerraCare can be worn just like normal underwear.
They are ideally suited for persons suffering from moderately severe to severe incontinence
and offer reliable security and pleasant wearing comfort.
The soft, fabric-like material and the comfortable bands on the waist and legs ensure
pleasant wearing comfort. Side leakage protection offers additional security because it prevents fluids from escaping. Special gel components securely lock in odours and fluid in the core
of the pants. Thanks to the tear-open side seams, the pants can be quickly opened
and changed, and easily disposed of.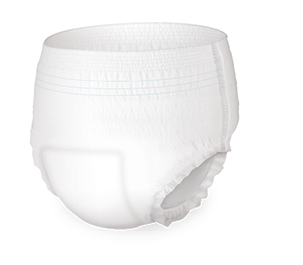 • skin-friendly thanks to an
air-permeable exterior
• Discreet thanks to
quiet material
• Strong absorbent core
• Gel concept to stop
odours and retain fluids
• Protection against rewetting
• Side leakage protection
• Wetness indicator
• Easy to put on and take off
Product No.
Waist size
Contents